Zalap 1000W Outdoor Solar Street Light
sold in last hours
Congratulations!
You have won a lucky new customer coupon: ZALAP2023 (enter on the checkout page)
No Electricity Bill
Ultra -Wide Lighting Angle
3 Lighting Modes & Intelligent Control
Easy Installation And Wireless
3 Year Warranty Policy
30-Day Money Back Guarantee
Lifetime Customer Support

Zalap 1000W Outdoor Solar Street Light
1 Pack / 1000W
How Zalap upgrades your garden lighting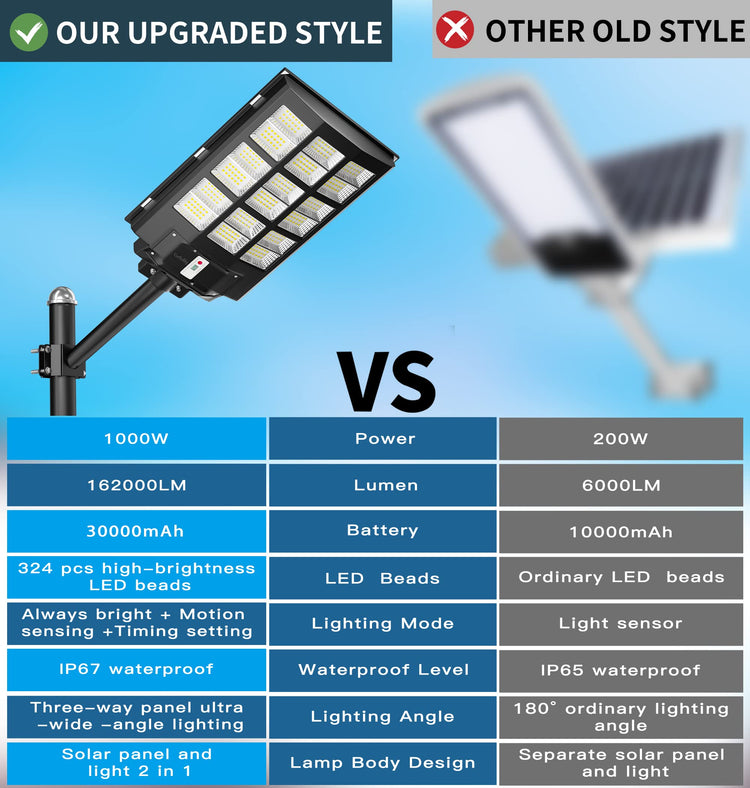 No Electricity Bill
Zalap 1000W solar street lights provides 6500K daylight white light, equipped with 324pcs ultra bright LED beads and a 3.2v-30000mAh battery(life up to 50,000 hours). The brightness of our ultra-bright lamp beads is 20 times the brightness of ordinary lamp beads. IP67 waterproof grade makes it work well even in bad weather all year round. Solar-powered, no electricity bill produce, automatically turns on at dusk and turns off during the day.
"Very impressed with quality of this light. Mounted it about 15' high, stays on all night even with having a cloudy charging day . I have other brands that work fine but this one is much more heavy duty. I would recommend this light. "--Davis C.USA
SHOP NOW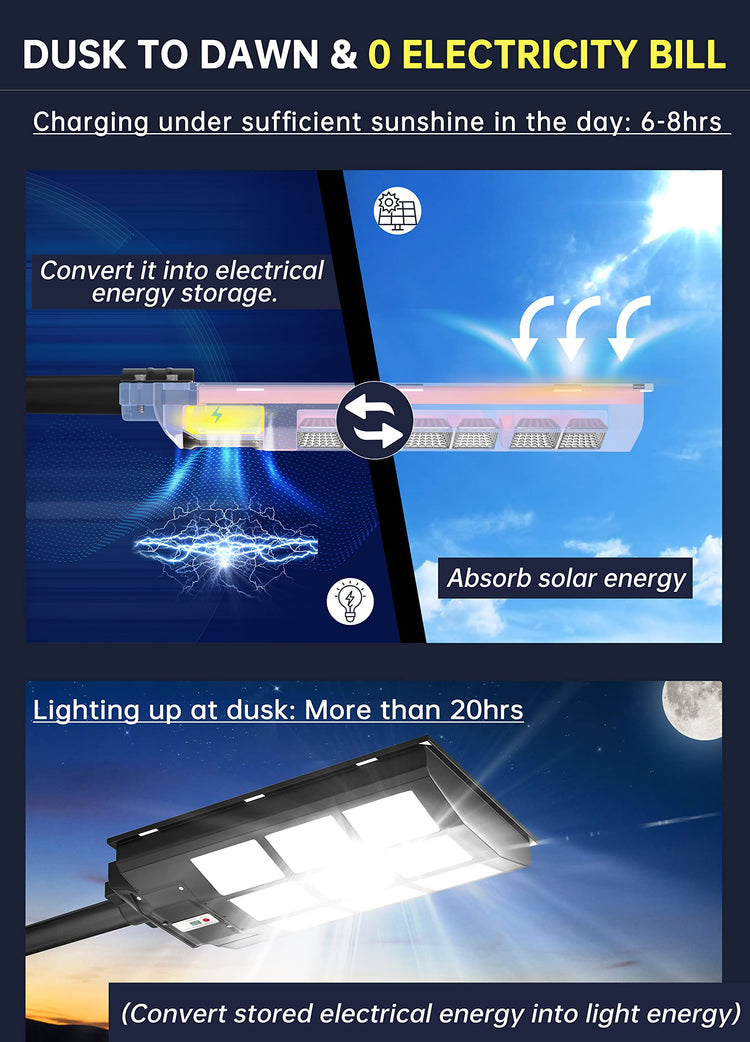 Ultra -Wide Lighting Angle
The upgrade solar parking lot lights are designed with three-way panel ultra -wide -angle lighting, which can provide a wider range of lighting and brighter light compared with ordinary street lights. Illumination area up to 2800 sq.ft, lighten up Illumination blind spots. Escorting the safety of you and your family. The first choice for night lighting. Continuous lighting for up to 40 hours (when fully charged).
"Got this for my wife and it's been working beautifully since day 1. Light stays lit all night long. We're using it for our large backyard to keep animals out and to prevent folks from tripping. Would recommend this to all everyone who needs something durable and powerful and super bright." - Austin S. USA
SHOP NOW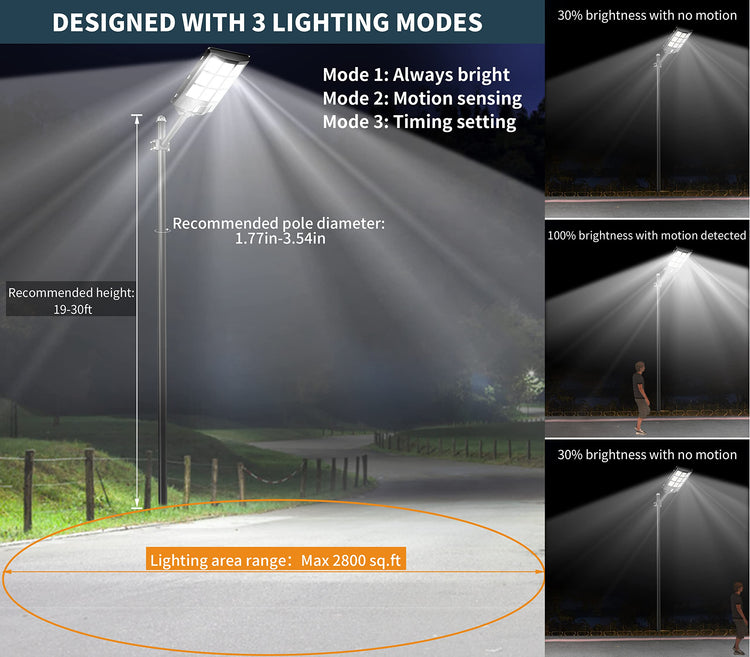 3 Lighting Modes & Intelligent Control
The solar flood lights provide 3 lighting modes for you to set. Mode 1: Always bright, Mode 2: Motion sensing, Mode 3: Timing setting. Provide 5 Timing sets: 2H/3H/5H/6H/8H. You can also adjust the brightness through remote control. There are 4 levels of brightness (25%/50%/75%/100%) that can be adjusted. The using instruction detail for the remote control is displayed in the Product Description.
"I thought it was junk the first night after letting it charge all day because I put it on 100% which is super incredibly bright but it only lasted about 4 hours the next night I put it on 25% which is still very bright and it lasted all night till the sun came back out and turned it off. At 25% it lights up the whole pretty large front yard, so it is more than sufficient. Maybe I'll try 50% one night just because but it's not needed, 25% is great." - Frank S.USA
SHOP NOW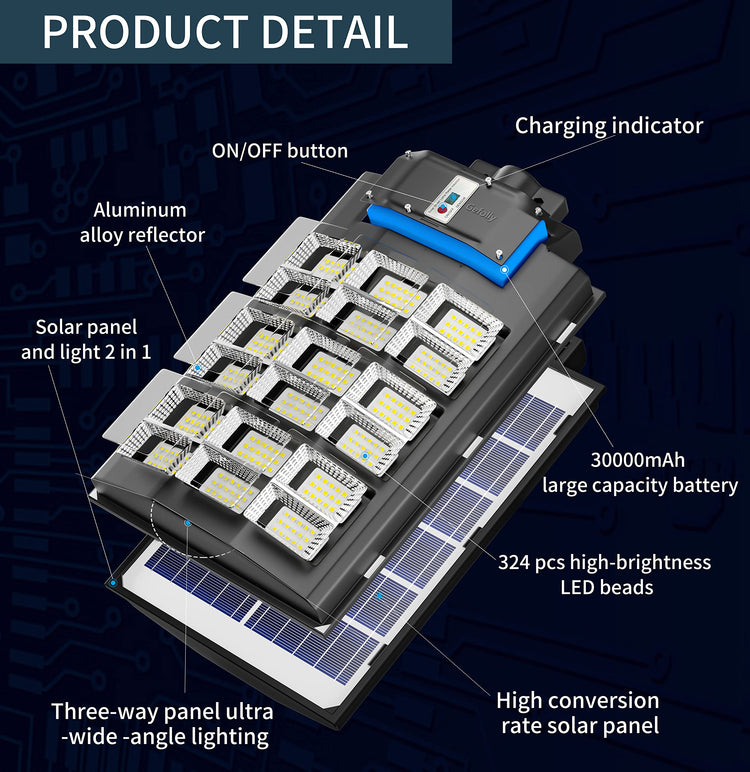 Easy Installation And Wireless
The street lights solar powered come with a wall and pole mounting accessories set, no wiring is required, which can be easily installed outdoor. Perfect for streets and roads, parking lot, basketball court, garage, garden, street, courtyard, squares, etc. The street light built-in 30Ah Lithium battery is more stable and longtime lasting. Working time is up to 20 hours after 6-8 hours fully charging, about 40 hours in dim mode.
"I was a little scared of spending money on solar but needed light fast for an event that had no electrical on site. Installed easily to wooden pole by myself holding with one hand drill driver in the other.I installed 2 screws in pole to hold top of bracket so I could let fixture hang ,freeing up my hands to install permanent screws. Turned on and waited until night.Photocell turned light on and was actually very bright. Did exactly what I needed."- Mark A.USA-
SHOP NOW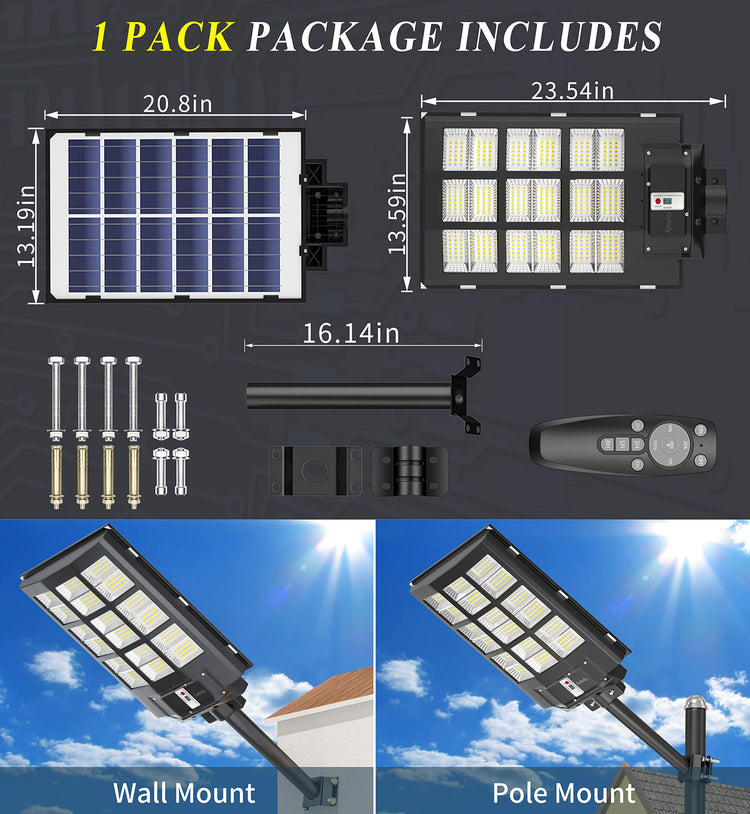 3 Year Warranty Policy
We promise a 120-day money-back guarantee and a 3-years product warranty. We're devoted to providing a satisfying purchase experience for our customers. For any questions about the solar street light, please feel free to contact our customer service team.
"We've had it about a year, and the light is fairly bright. Customer service is very responsive so I appreciate that."- Eric A.USA-
SHOP NOW

Ultra -Wide Lighting Angle
Designed with a three-way ultra -wide lighting angle, The lighting area up to 2800sq.ft, can lighten up many Illumination blind spots. Keep you safe.

324 PCS Ultra Bright LED Beads
20 times brightness than ordinary LED beads, providing higher brightness and a longer lifespan, energy-saving, even light, longer-lasting.

25%Conversion Rate Solar Panel
Solar panel and lamp 2 in 1, no wiring, no leakage, safer to use, easier to install. 25% high conversion solar panel, longer-lasting illumination.

IP67 Waterproof
IP67 waterproof, no worries about rain, it can work in high temperatures or cold weather -22℉~140℉.

Heavy Duty,Full-Weld Mount Arm
More resistant to corrosion, and not breaking. The small round hole design at the bottom can better excrete water, increasing the service life.

High temperature resistant
The remote control distance range is up to 35ft.
What Makes Zalap Different
High-quality materials, innovative and humanized designs
Easy to Use
Our home and garden lights require no wiring or drilling. We bring lighting to wherever it's needed in the simplest way possible.
Best Quality
We source only the best components and materials, and partner with experienced manufacturers to deliver reliable quality products.
Save Your Bills
With USB-rechargeable, solar-powered, and auto-on-off technology, our LED lights offer brightness with the highest energy efficiency.
Specifications
Model:

1000W

Battery:  

3.2V/30000mAh

LED: 

324pcs

Color Temperature:

6500K

Lighting Angle:

three-way ultra -wide angle

Material:

Aluminum Alloy, Glass

Package Includes:

1 x Street light solar powered;1 x Mounting arm;2 x Mounting accessories set;1 x Remote control( batteries not included);1 x User manual.