If you've ever shopped for a solar power flood light, you probably know that finding one that's secure and performs well is no small task, especially if you reside in an area that doesn't get decent sunshine year-round. At the consumer level, the technology for small fixtures is frequently mediocre at best. That said, making an attempt to go solar is definitely worthwhile to, you know, saving the planet. Another advantage is cutting enormous electric bills.
Choosing the right solar flood light can be a bit overwhelming, but here are some factors to consider:
Brightness:
The brightness of the solar floodlight is measured in lumens. Consider the area you want to illuminate and choose a light with an appropriate lumen output. For example, a 1000 lumen floodlight can light up a large area while a 200 lumen light may only illuminate a small area.
Battery Capacity
The battery capacity is an important factor to consider when choosing a solar floodlight. Ensure the battery can provide enough power to last the whole night or for the amount of time you need it to.
Durability
Solar floodlights are installed outdoors and exposed to various weather conditions. Choose a solar floodlight that is waterproof, dustproof and made of high-quality materials to ensure its durability.
Installation
Consider the ease of installation of the solar floodlight. Choose a light that comes with easy-to-follow instructions and all the necessary components for installation.
Motion Sensor
Some solar floodlights come with motion sensors that turn on the light when motion is detected. This is a good option for security purposes, and it can also help save power by only illuminating when it's needed.
Price
The price of solar floodlights varies depending on the features and quality. Choose a solar floodlight that meets your needs and budget.By considering these factors, you can choose the right solar floodlight for your needs.
How We Selected
 1. AmeriTop Motion-Sensor Lights

Key Features:
800-lumen output
20% efficient poly solar panels
26-foot radius motion sensor
Wide 270° lighting area
Automatic on and off
Adjustable light head and sensor
IP65 waterproof rating
Fixed solar panels.
2. Zalap Solar Power Motion Sensor Flood Lamp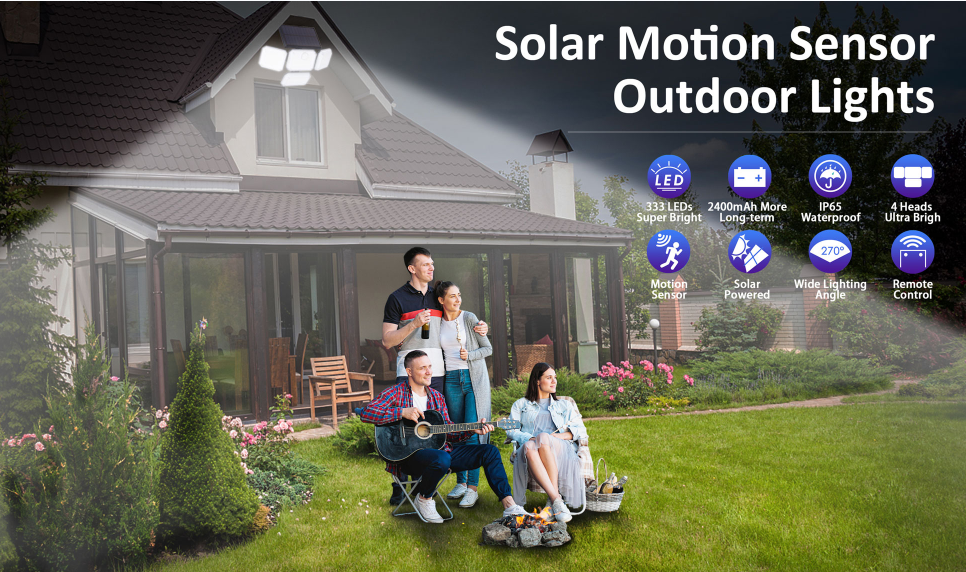 Battery Capacity: 2400 mAh lithium Battery
Battery Life:Motion Mode: up to 30 days (on average of 8 activations a night); Motion Energy Mode: up to 38 days (on average of 8 activations a night); Stay On Mode: 48 hours
Charging Time:5 hrs under direct sunlight
Sensor:Single Motion Sensor
Sensor Detecting Range:26 ft / 8 m
Sensor Detecting Angle:180°
Numbers of LED:333
Lumens:3000 LM
Waterproof Rating:IP65